PORCELAIN VENEERS IN MELBOURNE
Patients come from all over Melbourne to visit our experienced dentists, skilled in applying porcelain veneers to teeth so that patients can get that perfect smile.
What are porcelain veneers?
Porcelain veneers (also known as dental veneers) are thin shells of tooth-coloured material. Our experienced and caring Essendon dentists bond these veneers to the front surface of your teeth with a safe and durable bonding agent. The veneers are made of a translucent porcelain material, and are a great way to improve the look, shape and colour of your teeth. They are an alternative to composite resin restoration; porcelain veneers are stronger and will wear better.
Veneers can be used for one or more teeth, leaving the natural tooth structure in place while cosmetically changing the appearance of your smile.
Who will benefit from porcelain veneers?
Modern dentistry uses veneers to treat smiles that have:
chipped, 

cracked or broken teeth

stained or discoloured teeth

oddly shaped teeth

teeth that have gaps or are crowded.
If you are unhappy with the appearance of your natural teeth, dental veneers may be exactly what you are looking for.
What are the benefits of porcelain veneers?
Porcelain veneers:
preserve natural tooth structure
are bonded to the tooth, strengthening it
are a colour-matched ceramic solution, customised for a natural look
are clinically proven
solve multiple cosmetic issues at once
can be an alternative to orthodontics
provide patients with a whiter and brighter smile.
How are veneers made?
At the first appointment, your dentist will take impressions of your teeth. The impressions help to prepare your veneers to fit your smile. Your teeth will also be prepared for your veneers, which involves shaving off a small portion of enamel from your tooth. Shaving some enamel from your tooth means there is a fitting surface for your new veneers. This also ensures that your veneers will not look bulky or out of place. Your dentist will send your impression information to an off-site laboratory so where the veneers are created. At this stage of the process, your dentist will fit you with temporary veneers.
At the second appointment, your dentist removes the temporary veneers, and bonds the new permanent veneers to your teeth. Your dentist will advise you on how to care for your new smile; it's essential to maintain the health of your teeth and gums with good oral hygiene habits and regular dental visits. It's also highly recommended that you're fitted with a customised night guard, which helps prevent damage to your new veneers from habits such as grinding or clenching.
How much do veneers cost?
We aim to provide you with all your options and costs and guide you through the process. We understand that all smiles are different, and every individual requires customised care. We only use reputable materials and clinically proven techniques, while using reputable Australian laboratories and ceramists. As every patient is different, we provide a final quote after a full consultation and assessment.
There is a variation in cost, which depends on the materials and techniques used. To help manage the cost of fitting porcelain veneers, we offer payment plans through DentiCare.
Porcelain Veneer Case Studies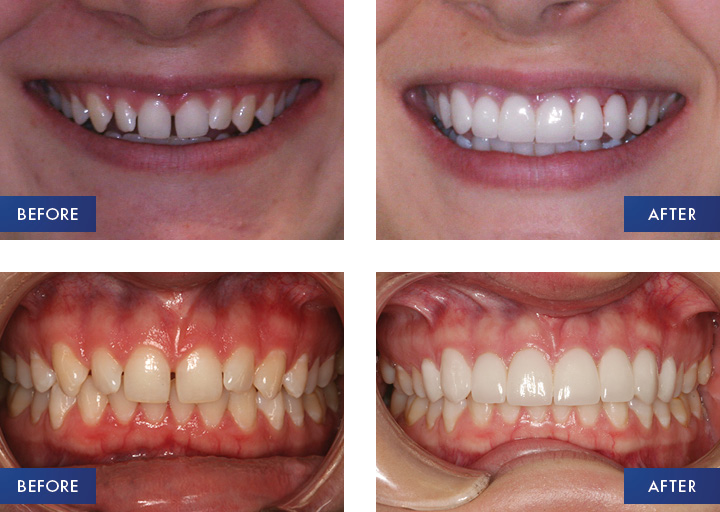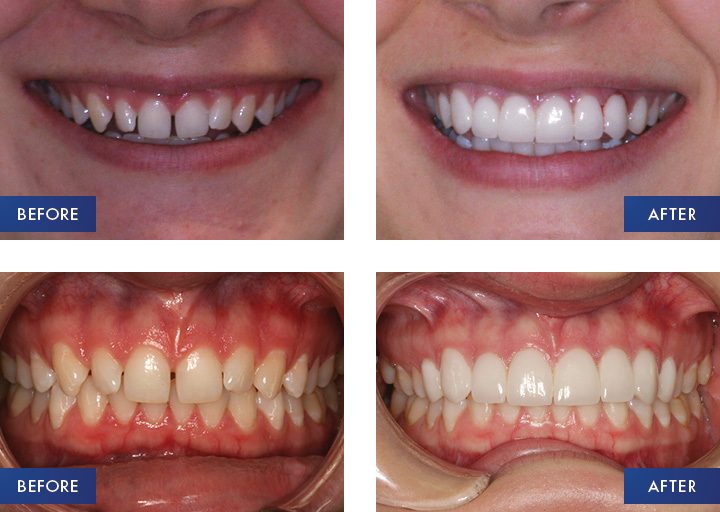 Find out more
Contact us for more information or if you would like to book in for our complimentary cosmetic consultation.
Visit our Case Studies to view more porcelain veneer results.