IMPLANT SUPPORTED DENTURES IN ESSENDON 
Implant supported dentures are dentures supported by the placement of fixed implants rather than gums alone. Removable implant supported dentures are also known as 'snap on dentures' and are sturdy and reliable. Patients who can't tolerate the feeling of having the denture completely covering the top of their mouth are great candidates for implant supported dentures.
What are implants? 
When patients lose all their teeth, there is nothing to support dentures. The lack of support causes the dentures to move around or slip while talking and eating. A dental implant comprises:
a titanium alloy screw attached to the jawbone

an abutment, which is a small hook attached to the screw

an artificial tooth (dentures) or crown.

   
Removable Implant Supported Dentures 
Once our dentist has affixed your implants, following successful integration into your jaw, you can receive customised dentures that snap on to the implants. The dentures have special attachments which hook onto the abutment of the implant. The firm connection from the hook and implant provides solid and immovable retention. Both top and bottom jaws are suitable for snap on dentures.
Implant supported dentures on the top jaw require a minimum of four implants for optimal fit and function. As little as two implants on the lower jaw will be sufficient for a snap on denture. Additionally, our experienced dentists can create milled bars to join your implants together. Milled bars are an extra feature that can improve the look & feel of your dentures.

With the permanent implants to anchor and support your snap on dentures, you'll be able to eat better and speak more clearly. But, more importantly, you will be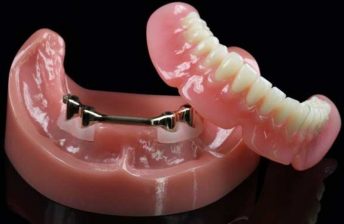 able to finally smile with confidence again!
What is the cost of removable implant supported dentures? 
As a general guide to costs, the placement of four implants with a milled bar and a new snap on denture costs around $15,000.
Dental implant procedures are not a one-size-fits-all solution. We customise every implant procedure for each individual patient. We base our implant treatment on careful planning and individual assessments before undertaking the procedure. Before beginning treatment, our skilled and caring dentists discuss treatment planning and personal goals with all dental implant patients.
Because each treatment is unique and based on individual presentations, we will provide a proper detailed quote at the final consultation once we've looked at all the information.
The starting point is a 3D X-ray and consultation, which costs approximately $280.
Fixed Implant Supported Dentures 
These are also sometimes called All on 4, All on 4 Plus or All on 6.
This treatment involves placing a complete set of teeth across a top or bottom jawbone, fixed onto 4 or 6 implants.
Like removable dental implants, this procedure is life-changing, as it improves speech while recreating facial balance and aesthetics.
Fixed implant supported dentures are designed to replace all teeth and can be used to replace existing dentures. Having fixed dentures is ideal for people who have had removable dentures for many years. Fixed implant supported denture treatment not only replaces missing teeth but also can help restore the lost soft tissue contour. Additionally, people with a history of gum disease may often need extra lip and facial support.
What are the costs involved for a fixed implant supported denture? 
Like most significant dental procedures, costs will depend on individual patient presentation, considering a range of factors before planning your treatment.
You will need an initial consultation to take a 3D X-ray to look at the bone quality. The cost of this appointment is approximately $280.

Do you currently wear dentures?
If you currently wear dentures, then the cost to place 4 to 6 implants fixed to a titanium hybrid denture bridge can cost between $19,000 to $23,000 per arch, and costs will depend on the type of milled bar, teeth used, and the particular system and method used. This process can take 3 to 6 months to complete. While the implants are healing, your existing denture will be adjusted and you will continue to wear these during the healing process.
What if my existing teeth are not in the best shape?
If you currently have existing teeth, we'll need to plan accordingly. Customised planning may take more time. Our dentists will discuss your goals and jointly develop a treatment plan. If you require an immediate fixed solution, then our dentist will:
extract teeth

affix implants
place a temporary acrylic bridge for 6-12 months while the gum and bones heal.
This immediate fixed solution costs approximately $15,000 per arch but can vary depending on the number of implants used. Costs can also vary depending on other procedures required, such as grafting. After the gum and bones heal, we will affix a permanent fixed bridge to replace the temporary acrylic bridge. Permanent fixed bridge options range from between $9,000 – $12,000 and can comprise: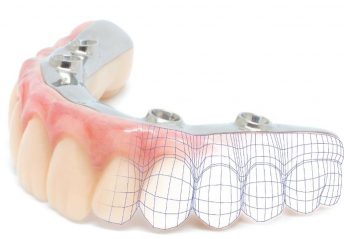 zirconia teeth

acrylic teeth. 
We look forward to hearing from you to start your dental implant treatment so that you can enjoy your favourite foods again with a smile.
Visit our Dental Implant case studies.