Bulk billing Medicare dentist for kids in Essendon with the CDBS
We participate in the Child Dental Benefits Schedule (CDBS) at our Essendon dental practice. The CDBS is Australia's program to fund Medicare bulk billing dental treatments for kids. Sometimes people refer to the Medicare dental CDBS program as the Child Dental Benefits Scheme.
We provide the CDBS Medicare dentist offering to all eligible children in the surrounding local Essendon community including Niddrie, Strathmore, Airport West and Pascoe Vale South.
Our Essendon dental practice has a long history of providing family-focused, quality dental care. Being easily accessible on Keilor Road means we are convenient to visit during or after school hours. Our location makes it easy to fit your child's dentist appointments in around school and any other extracurricular activities like sport, music or community-based activities.
As we are family people ourselves, we understand how busy a child's life can be. We have several days with extended hours, and we operate on Saturdays til lunchtime. You can be assured we will find a time that's most convenient for you and your family.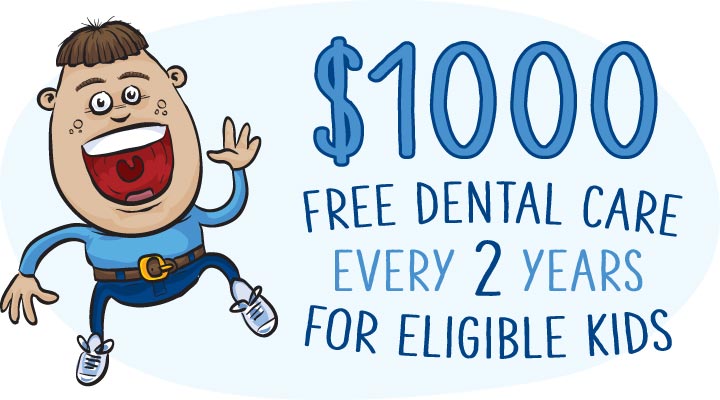 What is the bulk billed (no gaps) children's dental benefit covered by Medicare?
The Child Dental Benefits Schedule (CDBS) is a means-tested government-funded bulk bill dentist allowance that is available to children aged between 0 and 17 years old. Ordinarily, if you receive Family Tax Benefit A, your child is eligible for the CDBS.
Not everyone is aware that their child may be eligible for up to $1,052 worth of bulk billed general and restorative dental treatments under the CDBS provided through Medicare.
If you're unsure, please call our friendly and knowledgeable reception staff. They can check your eligibility over the phone. All they need is your Medicare number.
It's no obligation, and we won't harass you. Of course, we would love you to come to our practice in Essendon, but consider it our way of helping the community. We have been providing free dental education to schools for many years, and nothing makes us happier than kids with healthy teeth and smiles.
It could mean the difference to your child's future oral health and wellbeing.
What are the CDBS inclusions and exclusions?
The CDBS includes a range of bulk billed children's dental treatments, including:
Check-ups (examinations)

Fissure sealants

Cleaning (hygiene appointments)

Fillings

X-rays

Extractions

Root canals.
The schedule allows for the completion of these preventative and restorative kids dental treatments over a two-year period, up to a cost of $1,052. Under the CDBS, any unused funds cannot be rolled over.
The CDBS does not include children's orthodontic or cosmetic dental services. However, if your child needs these, we can tailor a treatment plan to suit your child's ongoing oral health which accommodates your lifestyle and budget.
Arrange an appointment right now
Start the process of achieving a better smile today by arranging an appointment. Just call us or if out of hours use our simple request a callback from and we will call you back when we are open.

Call 9379 1893
"*" indicates required fields