Cosmetic dentistry for the perfect smile
When you have a cosmetic dentistry appointment at Essendon dental practice, you can achieve the brilliant, sparkling smile we all like to see in the mirror. Our team of experienced dentists work with you to find the right solution to make your teeth whiter, straighter and more even.
Cosmetic Dentistry Services
Restorative Cosmetic Dentistry Services
Cosmetic Orthodontic Services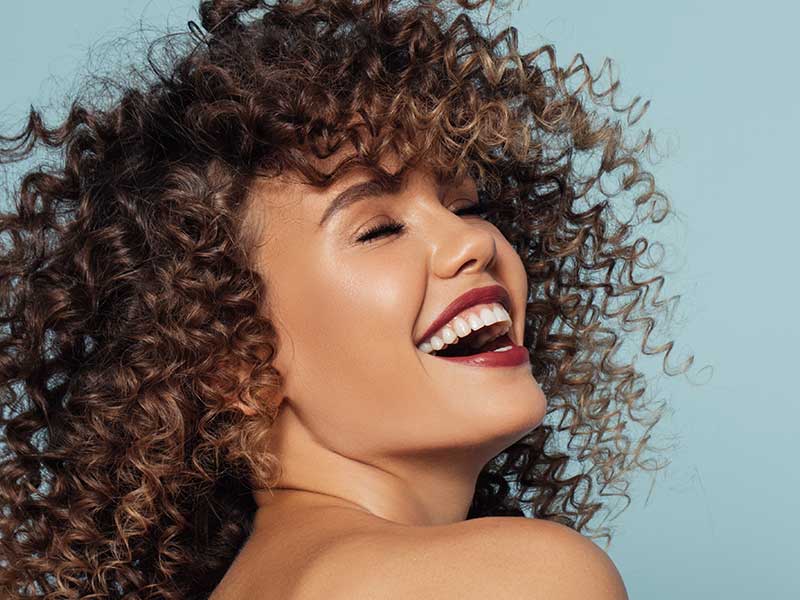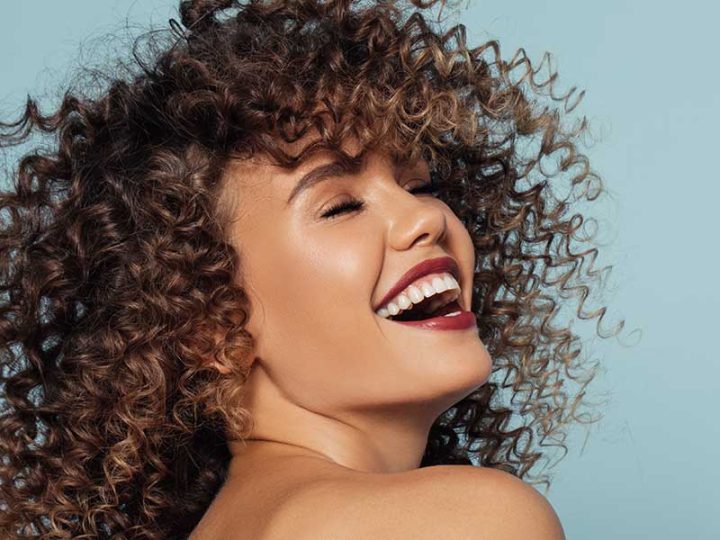 Who should consider cosmetic dentistry?
Should you consider cosmetic dentistry to help improve your smile? Ask yourself some simple questions:
Do you smile as much as you would like?
Do your teeth look as white as they once did?
Do people comment positively about your smile?
Are you happy with your smile?
What would you like to improve about your smile?
Do you see other people smile and wish you looked like that?
In recent years, modern dentistry has embraced new and refined cosmetic dentistry techniques. These innovative methods have allowed our dentists to help patients achieve that dazzling smile and greater confidence whilst retaining their original teeth as much as possible.
Introduction to Cosmetic Dentistry Services
Teeth Whitening
Your first step in whitening your teeth is to visit our Essendon dental clinic.
We'll fit a soft mouthguard, tailor-made to fit your mouth. Then, at home, you'll fill the mouthguard with the bleaching agent each day and wear it for up to an hour, for about one or two weeks until you achieve the whiteness you want. Using this method will work on your whole set of teeth or an individual discoloured tooth. And the best thing is that you do this from the comfort and convenience of your own home.
Dental Veneers
Gaps or short teeth can be corrected through veneers, in which one of our skilled dentists fits a white attachment to the tooth's surface.
Think of this process as being similar to having false fingernails attached to your existing fingernails. The bond is very strong, and the result is virtually undetectable from your other teeth, camouflaging what you want to hide.
We can also fit veneers to discoloured teeth, giving them a new lease of life.
Dental Crowns
Crowns are like hollow false teeth. When a patient receives a crown, they have a damaged tooth (which has a firm root). The crown is a custom-made permanent 'cap' that our experienced dentist fits over the damaged tooth and glues it into place. Just before fitting, the dentist prepares the damaged tooth to have the crown placed over it.
Crowns are made of porcelain, giving an incredibly realistic colour match to your remaining natural teeth. Once it's in place and bonded to the tooth, the crown seals the underlying tooth so that no further decay or damage occurs. As well as providing a robust and good-looking replacement, affixing crowns are usually less expensive than removing and replacing a badly decayed or damaged tooth.
Dental Bridges
A bridge is a little bit different to a crown. It's like three crowns joined in a row, covering the gap left by a missing tooth. The tooth on each side of the gap has a crown affixed to it. These crowns anchor the third crown in the centre (covering the gap) on either side.
Bridges are made of porcelain, giving an incredibly realistic colour match to your remaining natural teeth. Once it's in place and bonded to the supporting teeth, the bridge prevents further decay or damage, as well as providing a robust and good-looking replacement, affixing bridges are usually less expensive than removing and replacing a badly decayed or damaged tooth.
Dental Implants
When a patient receives an implant, it's another way of replacing a missing tooth. Having a dental implant is the nearest equivalent to regaining the lost tooth. When a patient comes for dental implants, our dentist screws a small titanium rod into the jawbone. A dental crown is then attached to the top of the rod. Human bodies readily accept titanium, and the bone bonds to it, making the implant very strong.
Gummy Smile Treatment
People with a gummy smile – showing only short teeth because there is too much gum covering them – can bring their teeth out of hiding for a brilliant smile with minor surgery. The one-step, one-visit process involves the dentist removing some gum tissue to expose more of the teeth. The result is a broader, more confident smile, especially if combined with bleaching.
Cosmetic Dentistry Case Studies
Here are some snapshots of some of our happy clients from all over Melbourne and beyond after they got their smile back. Our treatments ranged from simple teeth whitening to dental implants and bridges.
Please Note: These before and after pictures are an example of what our skilled dentists can achieve. Please speak to an appropriately qualified dental health practitioner, even if it is for a second opinion, for options and what results you can expect to achieve. Your own results and the length of treatment will vary depending on your existing dental condition and other factors which can change the complexity of any procedure.
Before & After: Porcelain Veneers & Crowns
This Aberfeldie patient came to see us as he wanted a whiter, brighter and wider smile.
He wanted treatment which would change his whole smile, making a big difference to his overall appearance.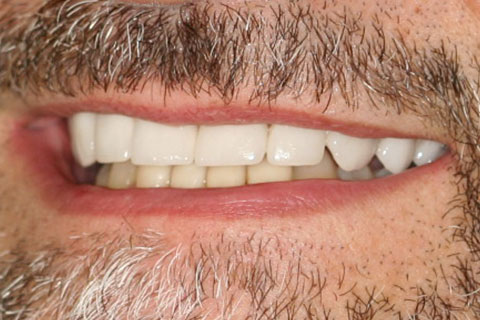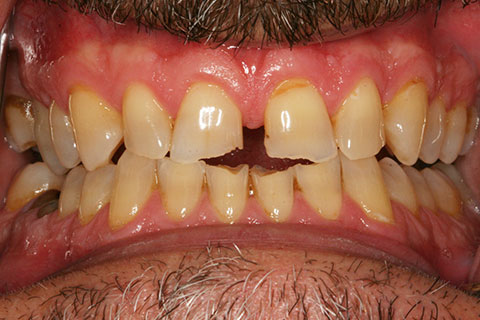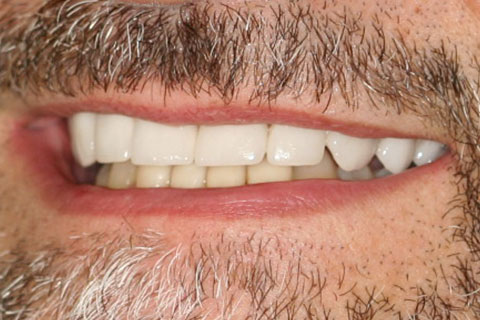 Problem
Years of grinding and clenching were chipping and breaking this man's teeth, significantly wearing them down.
Treatment
We affixed crowns and porcelain veneers to his top teeth, while we treated the bottom row of teeth with composite veneers.
Treatment Time
6 weeks
Before & After: Composite Veneers
This young Airport West patient had quite large gaps between her teeth which she wanted to close.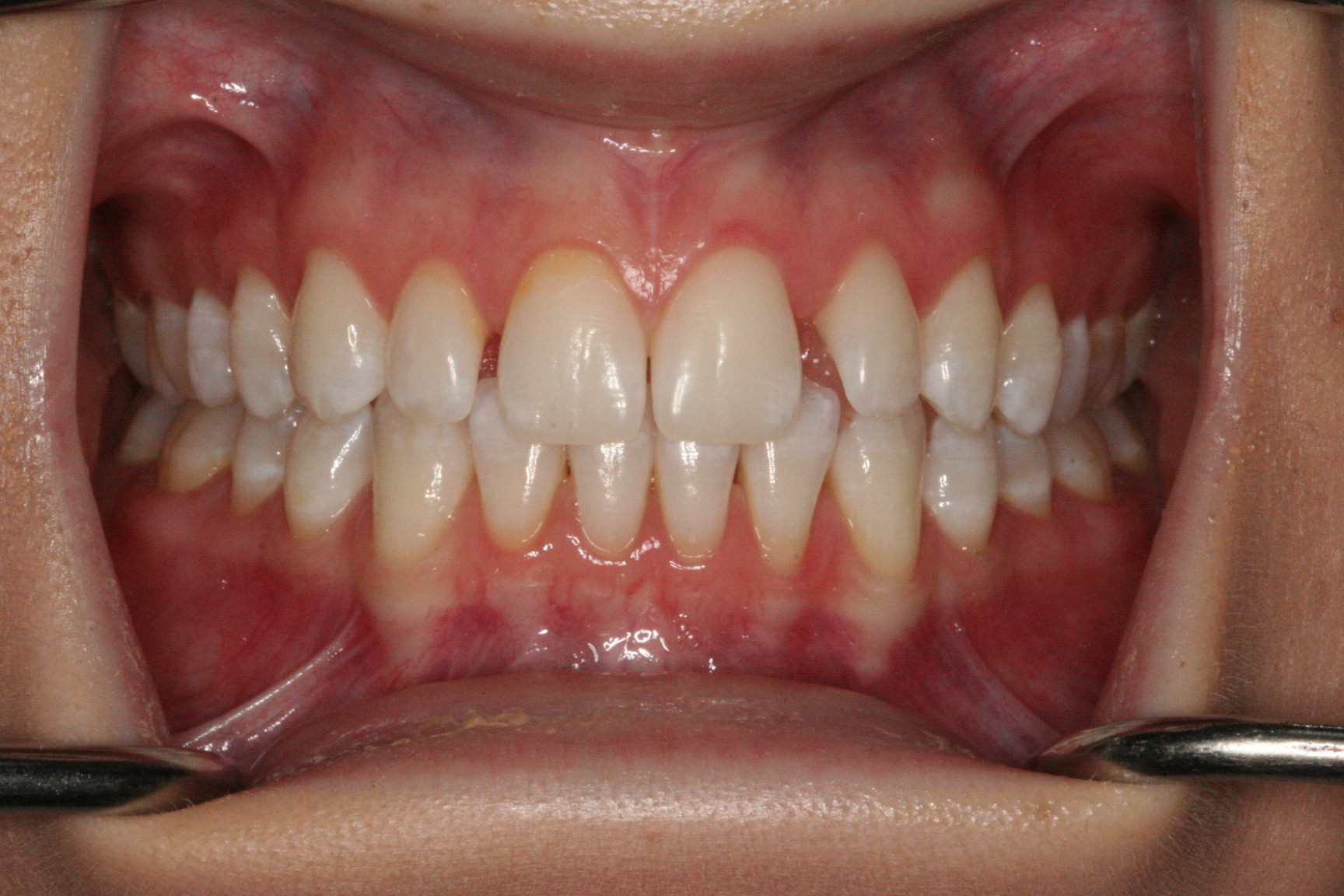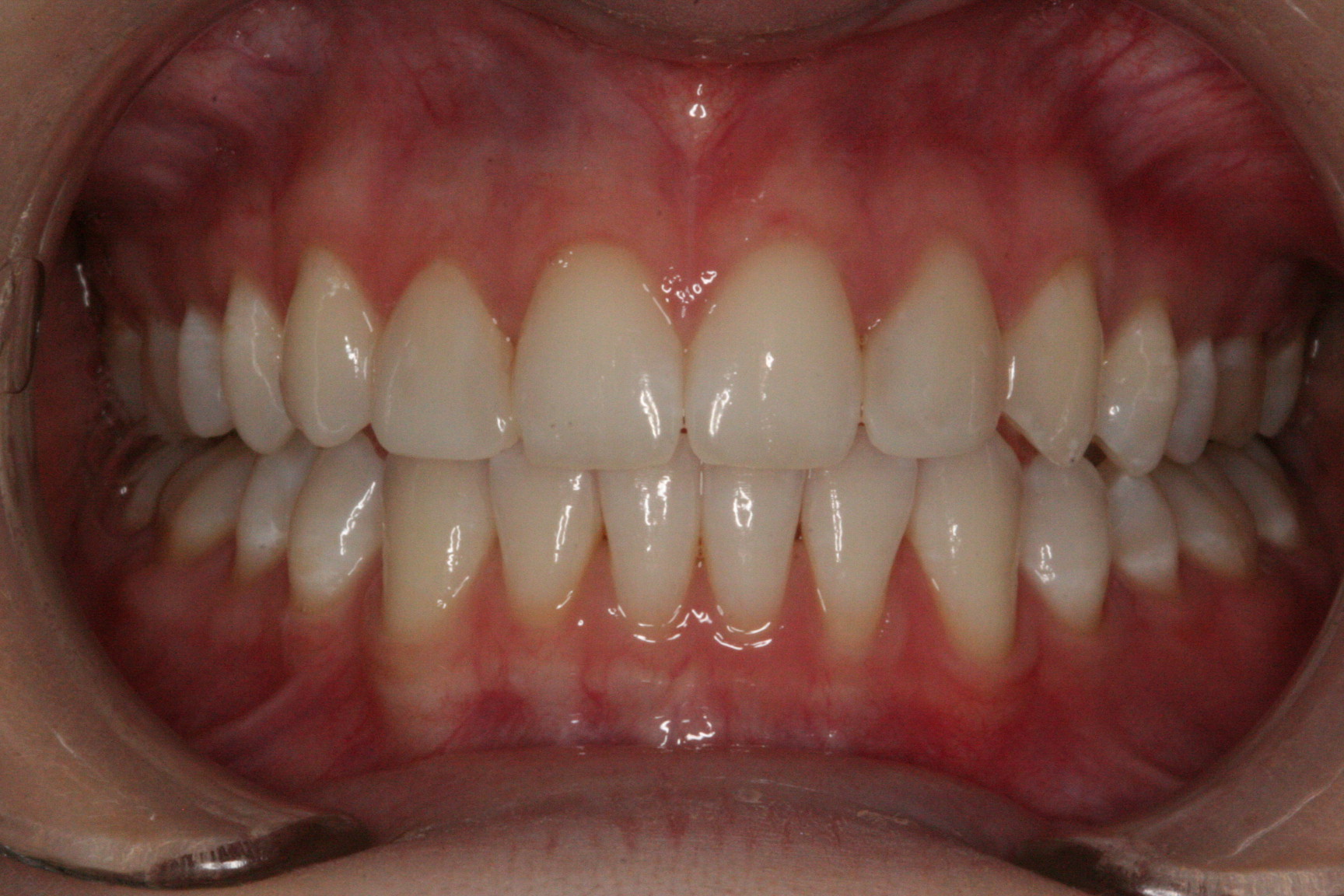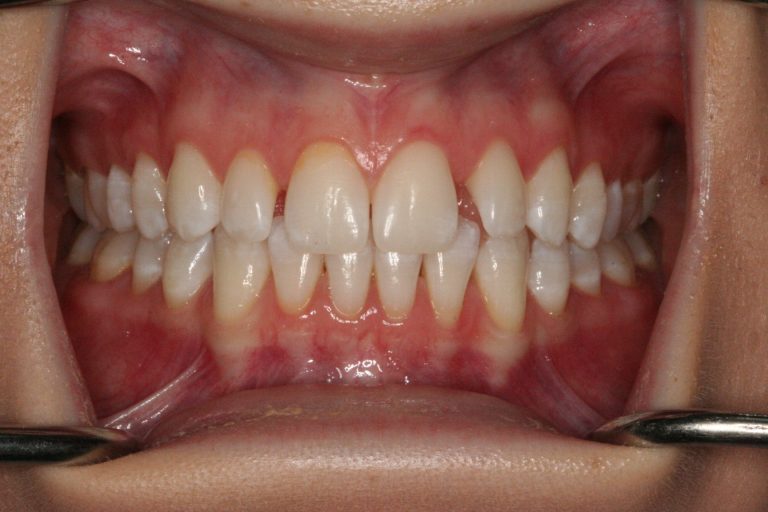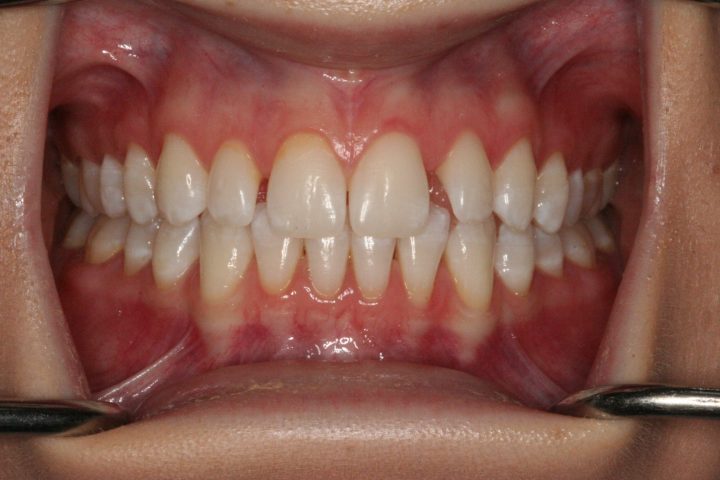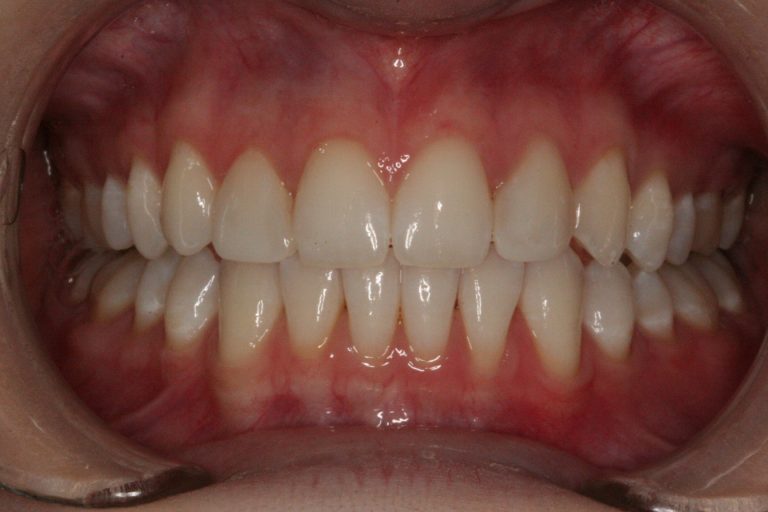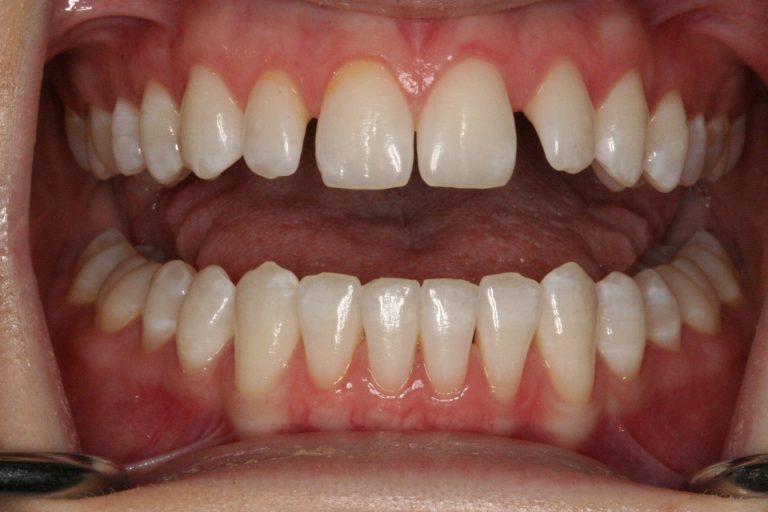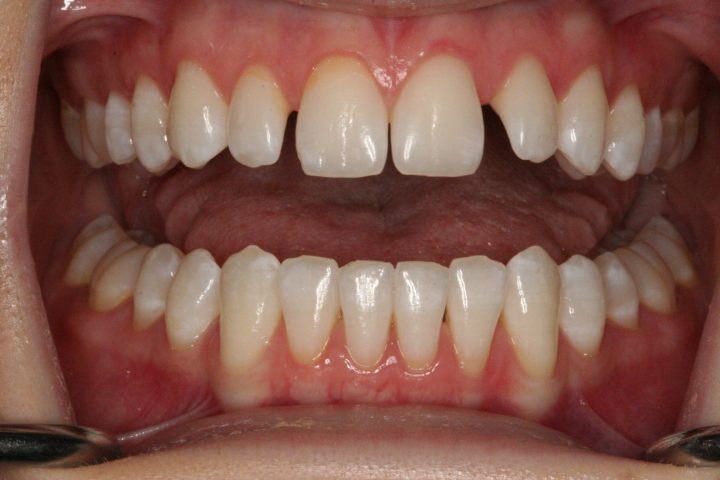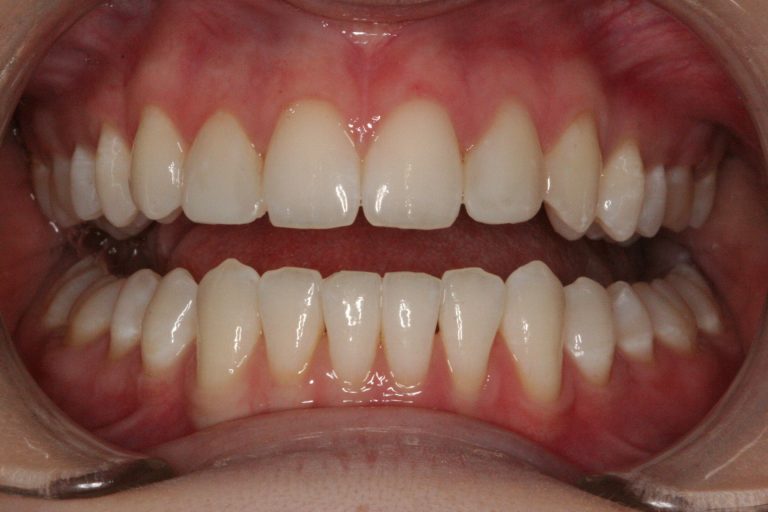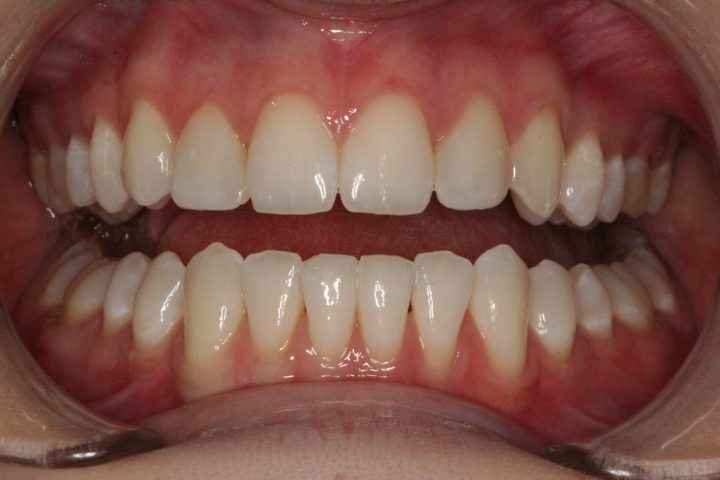 Problem
The gaps between this patient's teeth were due to orthodontic reasons as well as naturally having a smaller tooth size.
The usual course of treatment would have involved orthodontics to close the gaps. As a compromise, we advised the patient to have treatment for porcelain or composite veneers.
Treatment
The patient chose composite veneers, as the more affordable option. Over 1 hour, we affixed the sturdy composite bonding resin.
The patient also had teeth whitening treatment before the composite bonding.
Treatment Time
1 hour appointment
Ready for a smile you'll love?
For any problems you have with your teeth appearance, come in and chat with our experienced dentists. You'll be able to consider a range of options and make the choice which best suits you. Contact our friendly reception team to make an appointment.

Call 9379 1893
"*" indicates required fields